Welcome to my Black Friday Sale….Obey my Rulez
I am a grown ass 14yr old, treat me with the respect or I WILL tell my Mom

I shipped first no matter who you think you are…PERIOD!

Add 18% Paypal Fee's and shipping is $75 WORLDWIDE (except anywhere outside the USA)

My Guns don't work, but yours better – see Rule #1

Don't be a D-Bag or I will Internet Fight you!
Ok, since those are out of the way…onto the Sale. I will try to provide the best description possible for each gun, any problems, wear and tear etc…I by no means am an expert at anything, I just like shooting people. If you don't agree with my prices, shoot me an offer. My Trade List will be somewhat short, I really need to sell these to help pay for a Penile Reduction Surgery for myself, it's kind of an early Christmas Present for my Wife. Trades of interest include the following descriptive words:
- Lever
- Duck
- Wood (as in – "It will give me Wood")
- Unique
- :drool:
- BandCamp
- Micro…with an Emag on the end of it
- Tommy Mag
Like I said, I mostly shoot Pump, I have an Evil Ehm and a Karnivor, and a Warp Vertebrae for my Electro fixes….really don't need anything else that uses a battery, except a PTP Micro Emag.
Shipping to the States will include Tracking and Insurance – If it is crossing the border, it is insured. Shipping is usually around $30 Express from me to the US, my Canadian Brothers – I will use Express Post unless it is Face2Face, I expect a little reach around though.
First up is my 2k Ripper, it has a Tadeo board…currently capped at 33BPS lol…I shoot Pumps…so changing board settings is like trying to write Chinese to me. I aired it up two weeks ago and dry fired it, other than that it's sat on my wall for 2yrs.
Price is SOLD!
Next up: a Brass Eagle Nightmare. I recently got this, love it, just doesn't fire properly. I don't have the patience to fix it, but it does look nice on my wall. When you put a 12g in, it will fire a few times, and then start venting. It is pretty good condition for it's age..so buy it and fix it, and use it please!
Price is $235 US plus the shipping –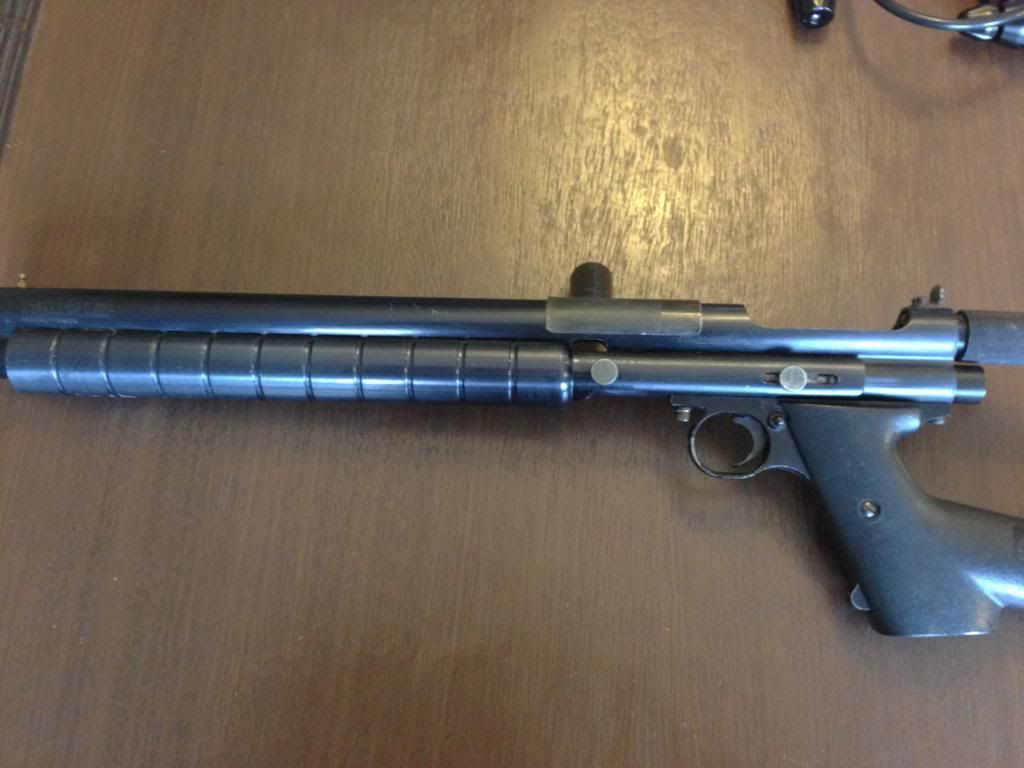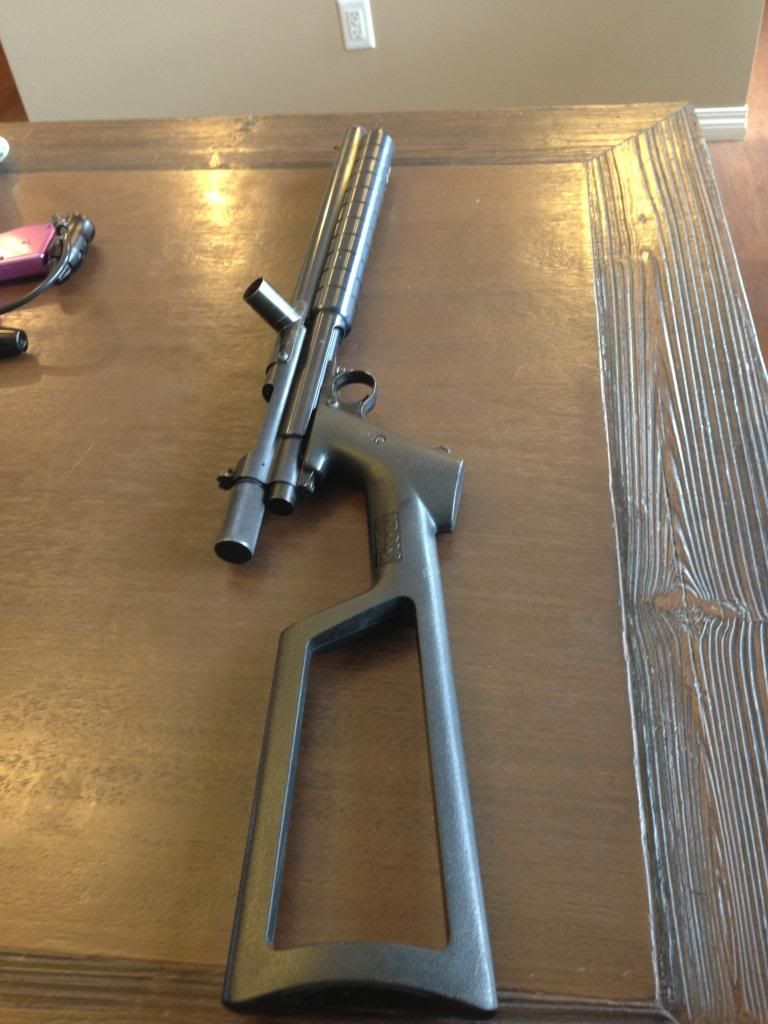 Redux #043
Yes….this one. It has been modified by CJ, it does feed a crap ton better this way. There is a learning curve to these guns – and it awesome to play with. The only major damage is on the feed tube – wrench marks. Steve said he could make you another set if you so desire – just pay the man for doing it lol. Comes with the extra feedplate, and a freak bored extended barrel. The hockey tape on the 12g knob is included, I won't charge extra for that – just adds a bit of grip is all. I seem to have the problem of not getting a great velocity on the guns I buy from the States – must have something to do with elevation levels, and weather. I could only get 260 over the chrono at it's best – perhaps the co2 was cold (it was only 10C out last time I took it out) So you may need to re-spring it.
Price is $1050 US plus shipping – I purchased it for $1500 not too long ago, with another $60 to get it to me…so yes, I am losing money but again, upcoming surgery and all.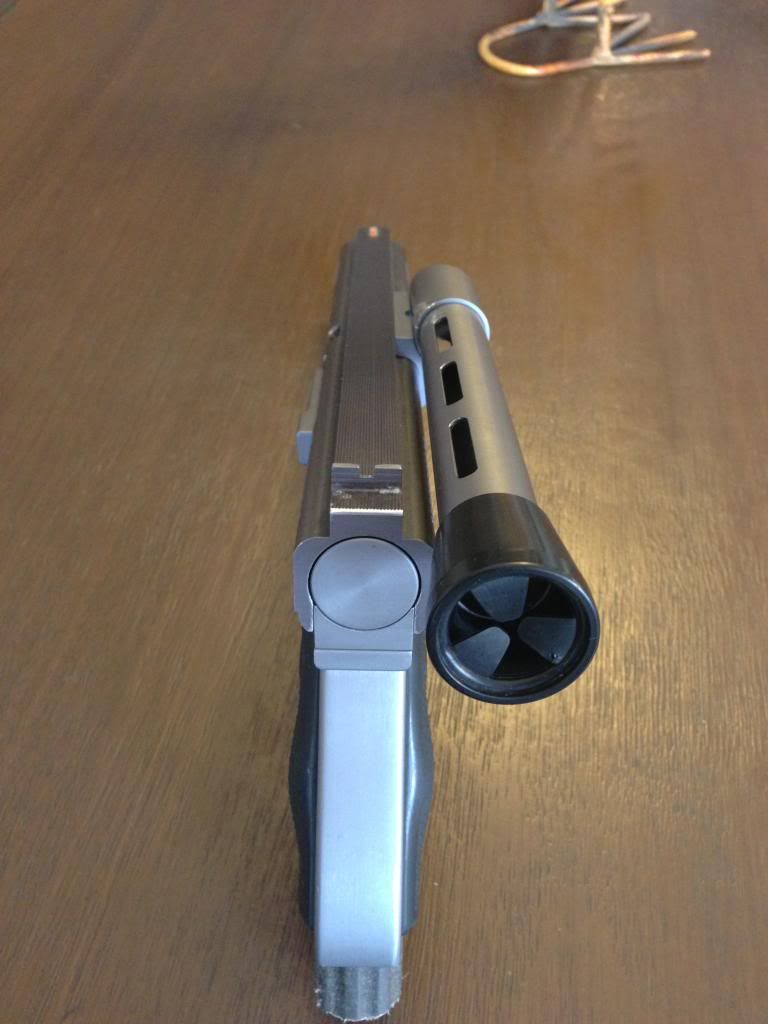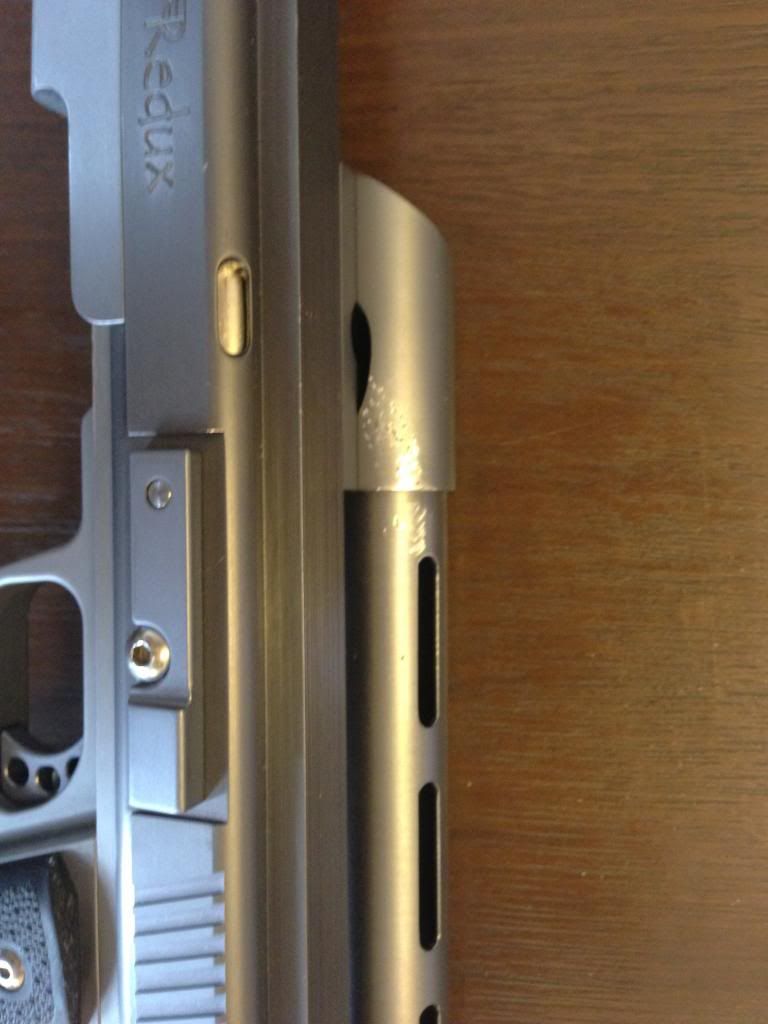 Free Flow Boxxer
This nice little project is in great condition, missing the body jewel, one little nick that I noticed over and above the normal wear and tear for it's age. It needs a pressed in feedneck, unless you can thread it your self – it does leak – hoses need replacing. Other than that – it is what it is.
$340 plus shipping take it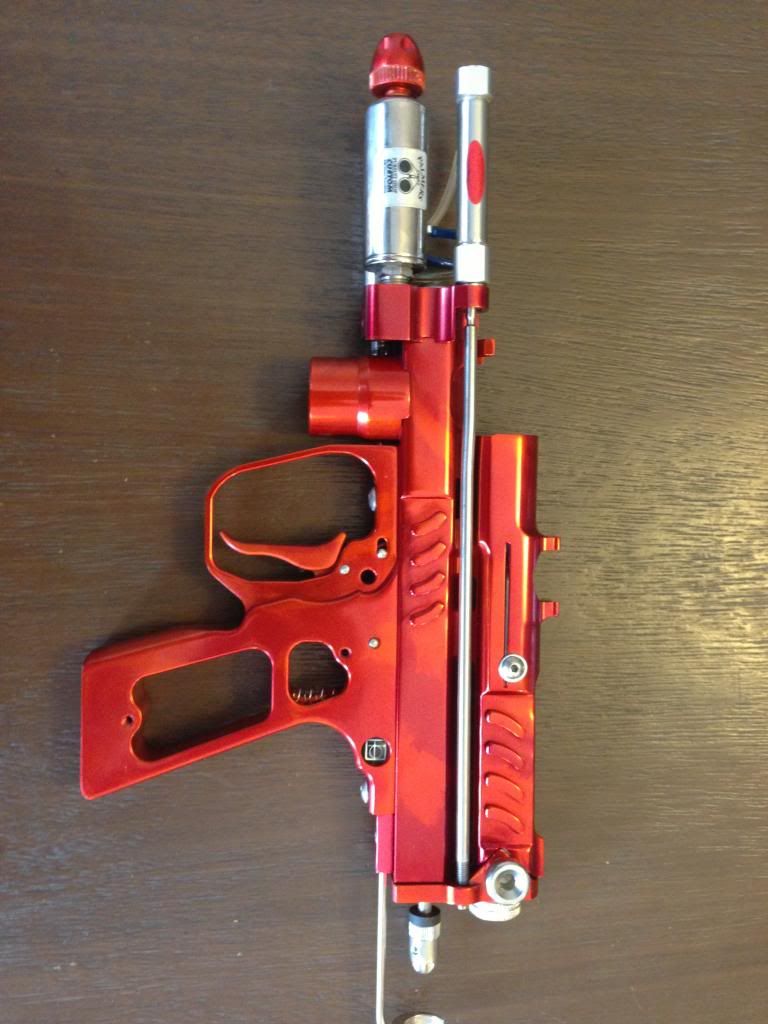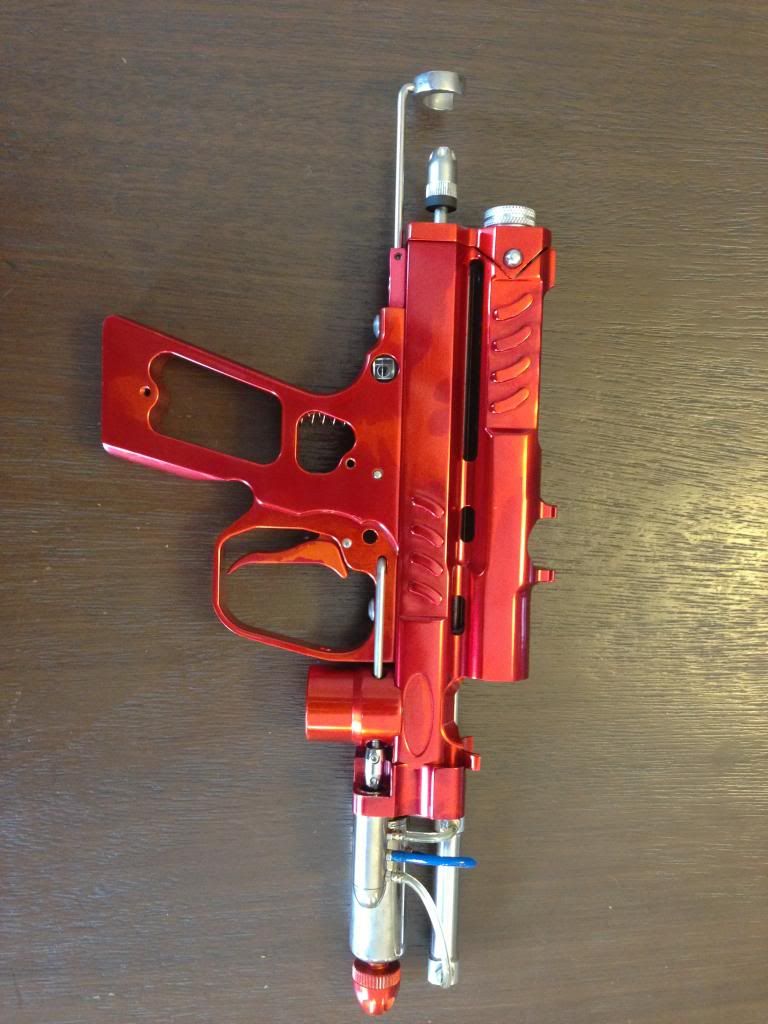 Smiley 007 – The grips were a little loose at the field, grabbed some hockey tape, that's why it is on there. This little gem is LOUD. Love going to the Chrono and scaring people with it lol. Again – might need to be re-sprung, chrono's low at 245 for me here.
$190 plus shipping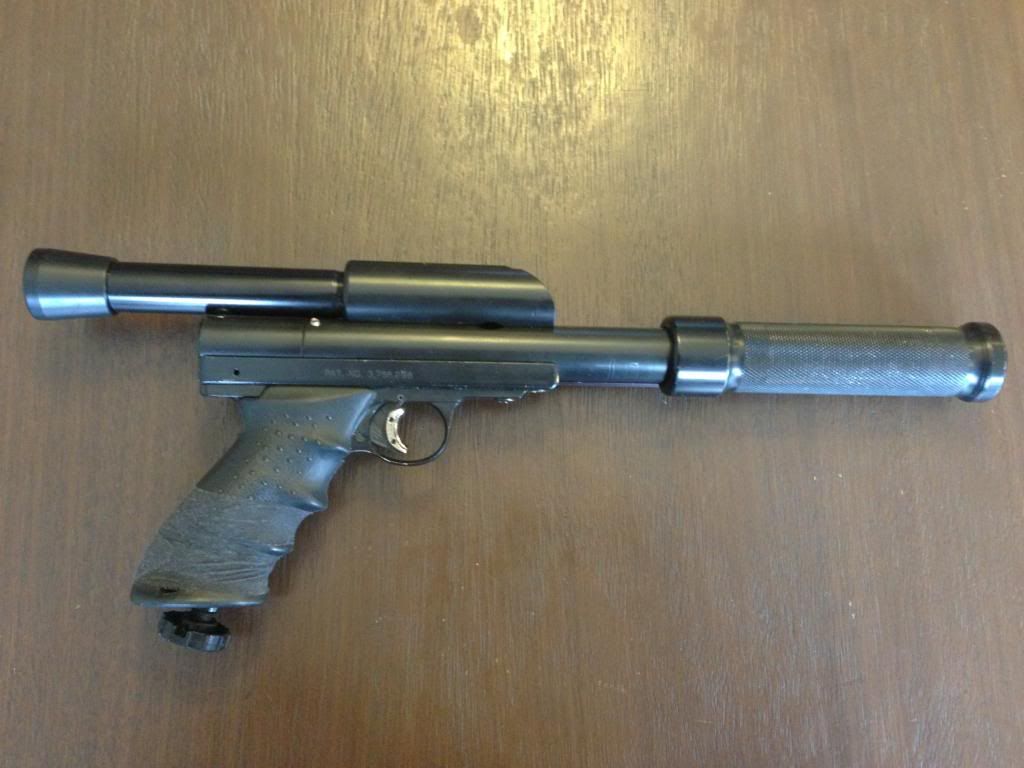 1980's Carter Comp – This is a players gun – lots of nice wear on it…might need re-springing again – shoots well last time I used it. Must be an early one – milling on the Carter Holes is pretty awesome lol What Sales thread wouldn't be complete without an upside down photo…so here you go!
Price - SOLD
The infamous (or famous – your call) GMAX Shocker. This was Garrett's gun, hence the collar name and number. If you don't know what this is, please don't buy it. I shot this in one game – setting is pull trigger and all hell breaks loose – I don't know how fast these can shoot, but my rotor got a workout. Again, I know nothing about electro's and their fancy boards and wires and battery things…so you might wanna play around with the settings if you know what you are doing.
SOLD!
matteekay dubbed this the Super Pimp – and By Golly, it is everything Pimp and more…
PGP all dolled up and ready to be played with – I aired it up months ago, forgot to vent the 12g – it's held air since. Put a new one in and fired off a few 10's or reballs. Expect a theme with guns requiring a spring to move the hammer – you might need a new spring – I was getting max 240 over the chrono last time I played with it. Comes with another pump – insides need work to slide smoothly. I was planning on keeping this one and letting it patina nicely…but yeah…
SOLD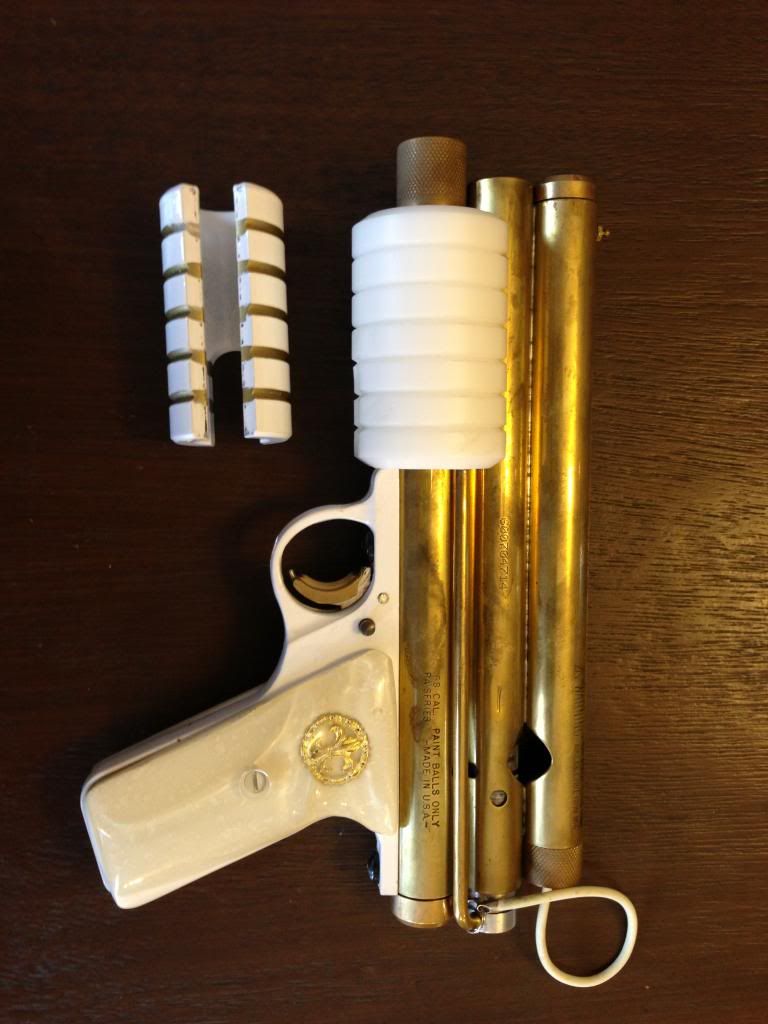 Uber Super Duper Rare LEFT Feed Sovereign….I really don't know much about these…for it's age it is in pretty good condition, various marks and dings though – it has been used as it should have. I aired it up, it leaked, I put it on the wall. I think someone from Custom Cockers might snag this lol
Price? $225 US plus shipping.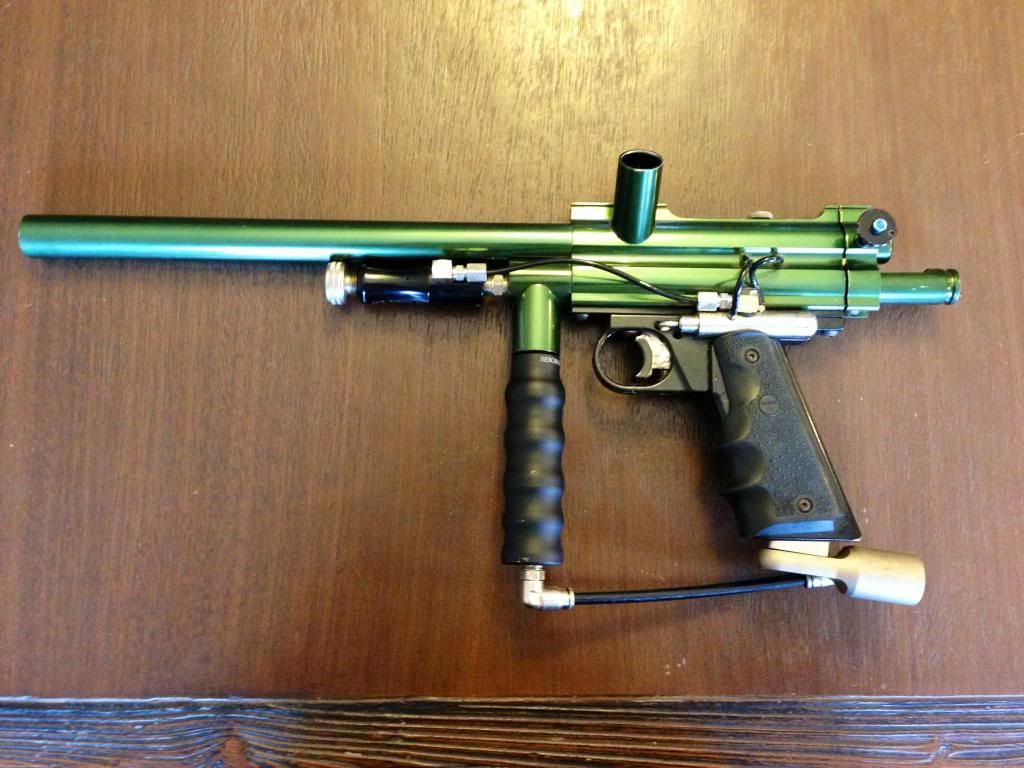 Chpinstone Pirate KP – This thing is pure AWESOME! The Battlegrips are the best thing since sliced bread for a pump grip. Soooo smooooooth, like bread and butter toasted slightly with a dollop of raspberry jam. Whenever I bring this to the field I get plenty of questions, usually the kid renters will run up and start asking away, wanting to touch it and such. Don't get me wrong, I love this piece of art, I love playing with it, but I have another chpinstone I love more. The spring it came with wouldn't engage the hammer to pierce the 12g – so I took the spring out of my other one and it shoots super nice – that being said….get your own damn spring!!
$650 US plus shipping makes you the new proud owner of a truly one of a kind custom gun.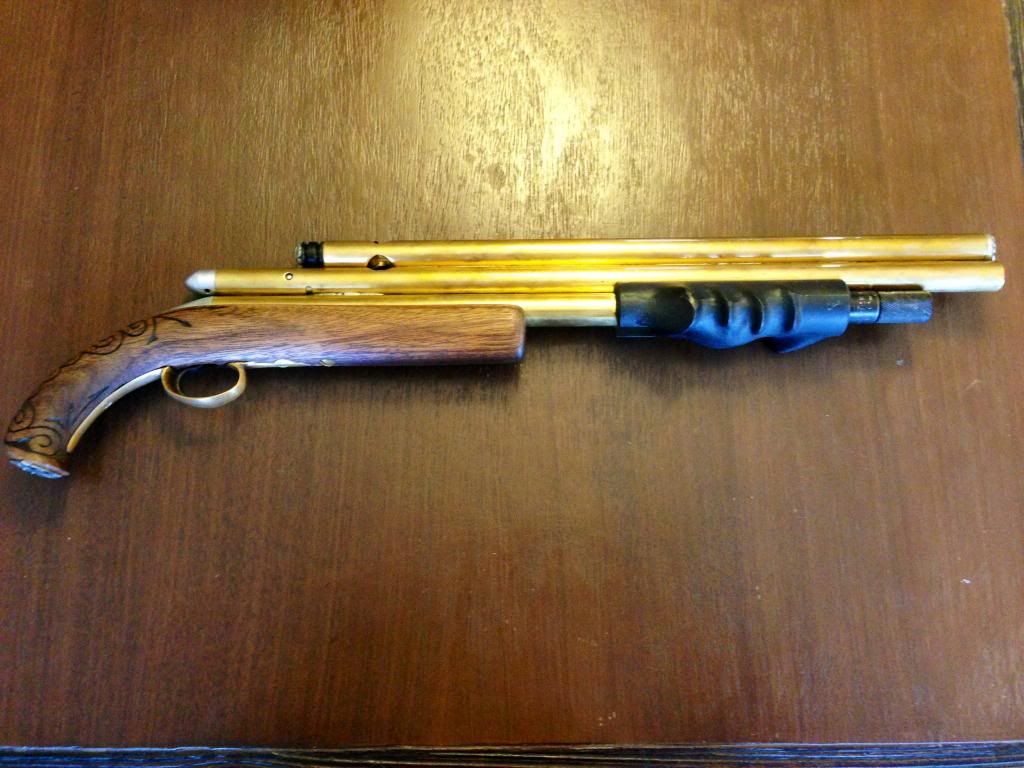 Alien Anno PTP MM Goodness – got this from MCB's resident AGD Hoarding God Robertsr – so you know it is as legit as they come (as one would say if they were on PbN ?!?) This is so legit, it is 2 Legit 2 Quit…..I want a Hammertime Badge!! Don't be surprised about the play in the trigger when this arrives on your doorstep, I inquired, and was told it was normal, when I aired it up for the first time, it was a killing machine. I looked so good shooting this – people just stood up in awe just to get a chance to be shot with it.
I took it out a little over 2 weeks ago, it was -5C throughout the day and I didn't have any problems until the afternoon – it developed a leak I could hear down the barrel – not sure if it was due to the cold or what, haven't looked at it since. So if you know a thing or two about mags I don't think you will have any problems getting it shooting again leak free.
$SOLD!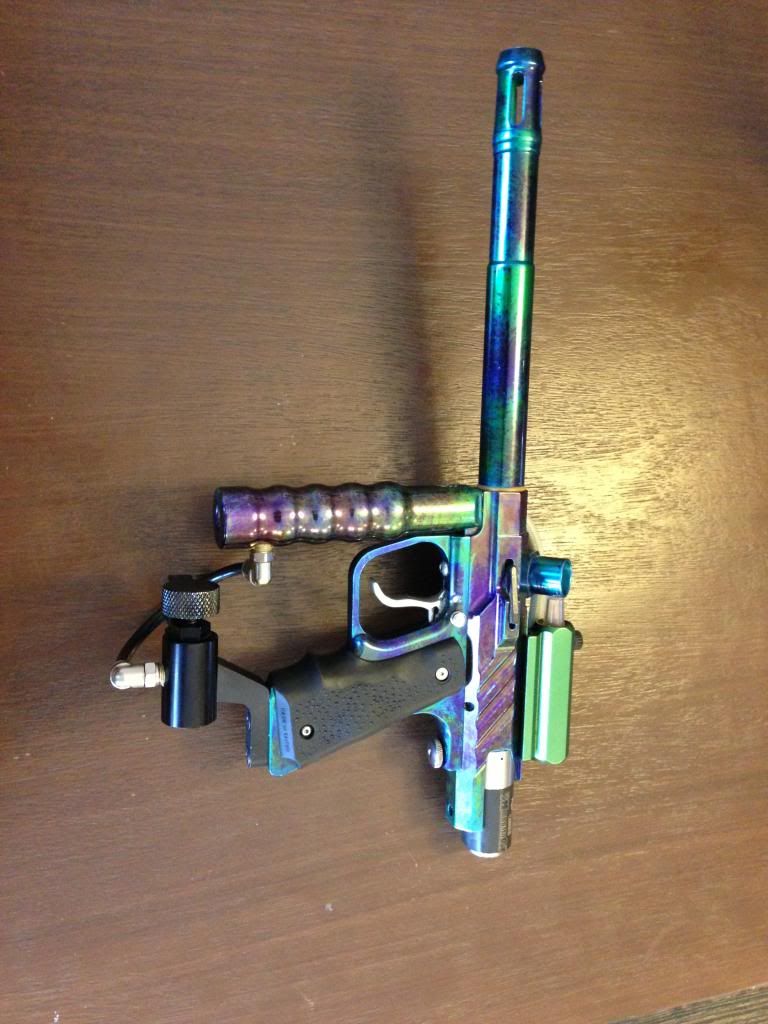 More photo's by request…might add a few more over the next day or two.
Adding a GameFace Impy. Serial Number 60, it is in great condition, I've only aired it up - that was months and months ago.
$165 US plus shipping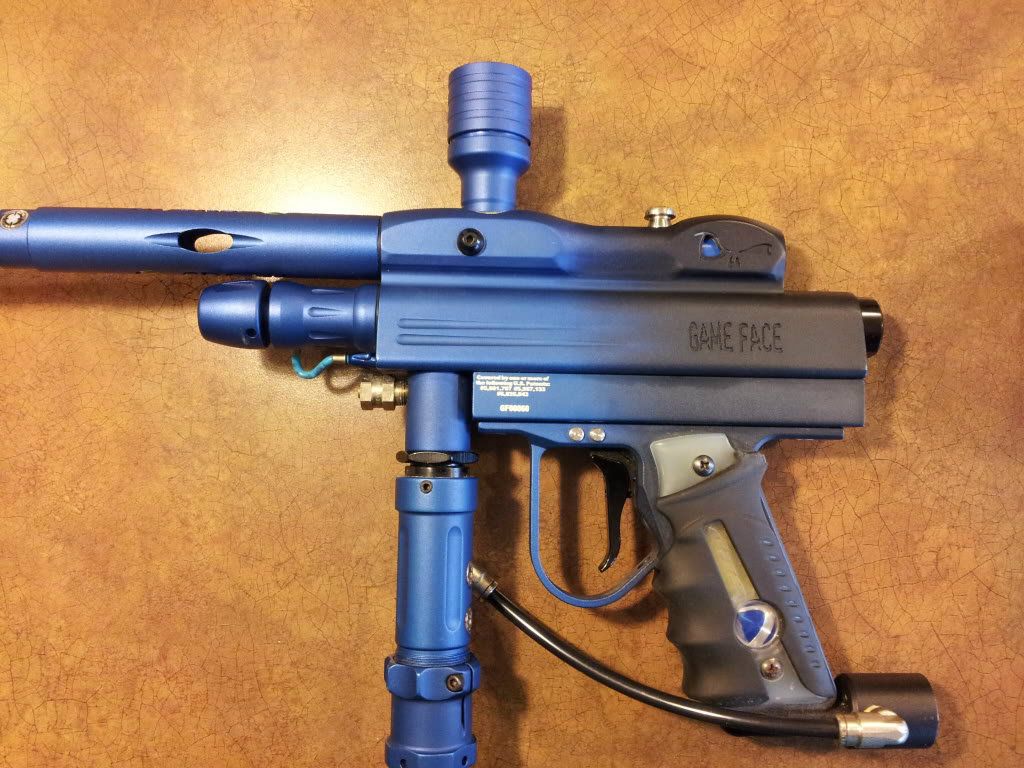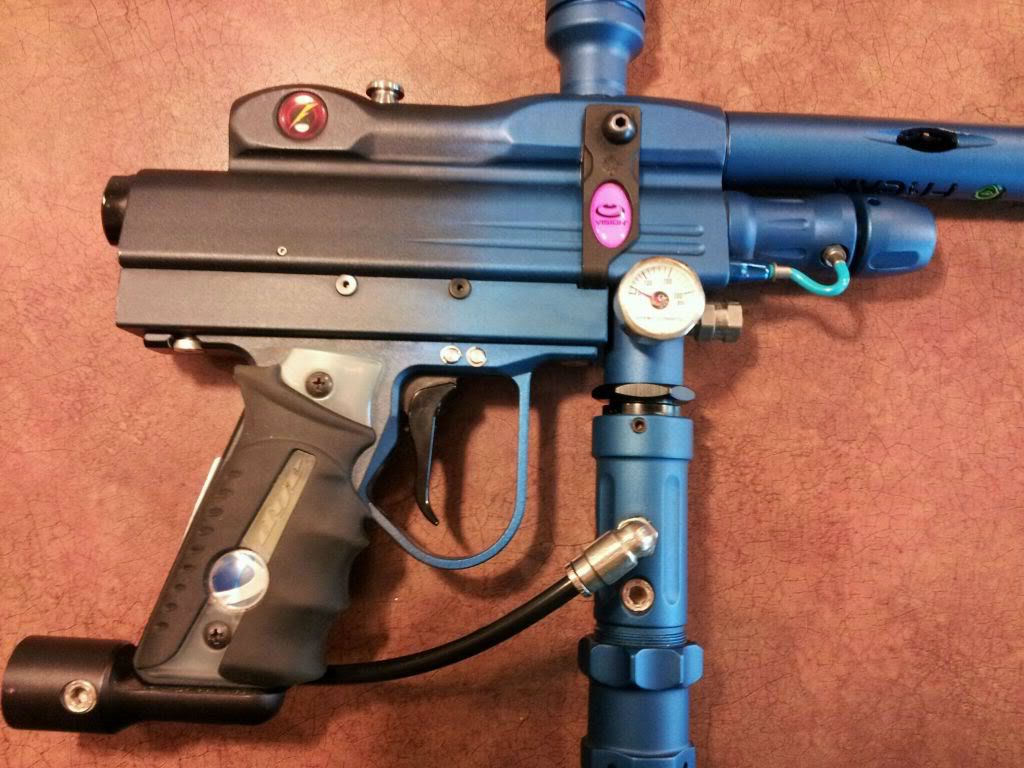 Added another PGP - This one is Nickel Plated, etched with a Graveyard Theme....enjoy!
$165 plus shipping